Last week in my newsletter, I shared some tips on cross-culture communication from a book named Culture Map written by INSEAD professor Erin Meyer. In her book, she categories culture into 8 taxonomies.
Communication - Low Context vs High Context
Evaluating - Direct Negative Feedback vs Indirect Negative Feedback
Persuading - Principles First vs Application First
Leadership - Egalitarian vs Hierarchical
Who Decide - Consensual vs Top Down
Trust - Relationship-Based vs Task-Based
Disagreeing - Confrontation vs Avoid Confrontation
Scheduling - Linear Time vs Flexible Time
If you are interested in the first 3 culture taxonomies and the tips, feel free to read my newsletter for the previous week.
Last Week Newsletter on Cross-Culture Communication Vol 1: LINK
While I am reading this book, serval scenarios in my current job appear on my mind. When I had an agreement with my manager. I also feel my manager is direct and uses very assertive phrases when discussing an issue.
Now I had more reflection on cultural differences and I believe it is just a difference in how we show disagreement, she is more on a direct confrontation while my colleagues are more on the avoid confrontation side.
Hoping this story and tips can help you understand people from different cultural backgrounds and use the tips in real-life.
And before we continue I want to stress a point, everyone is different and we shouldn't assume we can determine how other people think and behave from what we know about their cultural background. Even we disagree with the culture map, what important is to start exploring and discussing the differences in value system and work methods.
🔥Leadership & Power - Egalitarian vs Hierarchical
It is pretty straightforward to explain the difference between egalitarian and hierarchical leadership. But we also notice even in countries in Europe, spectrum spread very wild from Scandinavian in the far left to France, Poland and Italy located towards hierarchical.
✍🏻 Tips to work in hierarchy environment (when you are the boss)
To make people comfortable to share ideas, we can ask the team to meet without the boss in order to brainstorm as a group—and then report the group's ideas back.
If you do e-mail co-worker at a lower hierarchical level than your own, copy the boss.
Invite people to speak up. Even if team members have prepared well and are ready to share their ideas, they may not volunteer unless you call on them individually.
🚗 Tips to work in egalitarian environment
Think twice before copying the boss. Doing it could suggest to the recipient that you don't trust them or are trying to get them in trouble.
Introduce management by objectives, starting by speaking about the department's vision for the coming year and then asking them to propose their personal objectives.
⚡️ Who Decide and How - Consensual vs Top Down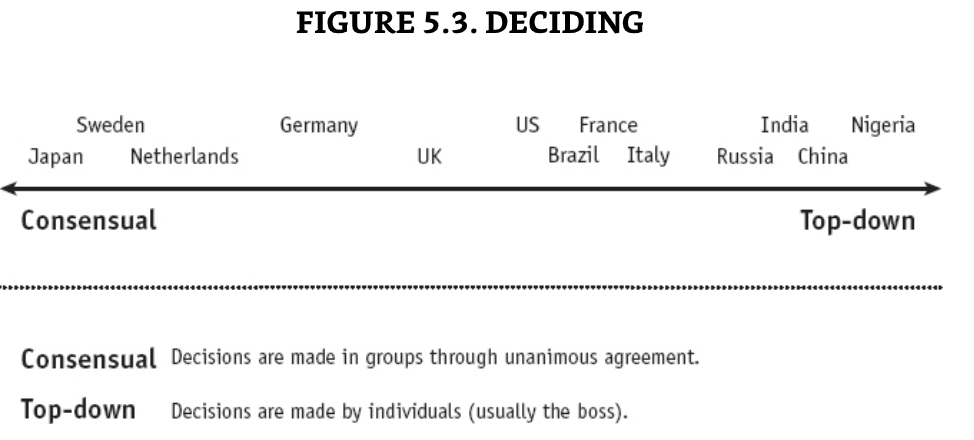 🏎Speed and Flexibility
In a consensual system, the decision making might take quite a long time since everyone is consulted, but once the decision has been made, the implementation is rapid, since everyone is consulted with the decision.
While in a top-down culture, decisions tend to be made quickly, early in the process, by one person (likely the boss). But each decision is also flexible. As more discussions occur, new information arises, or differing opinions surface, decisions may be easily revisited or altered.
🇯🇵 Japan Ringi System (How traditional companies make decisions)
Traditional Japanese companies used a unique deciding system called the ringi system which low-level managers discuss a new idea among themselves and come to a consensus before presenting it to higher managers. The higher-ranking managers then discuss the new idea themselves and arrive at their own consensus.
💡 Disagreeing - Confrontation vs Avoid Confrontation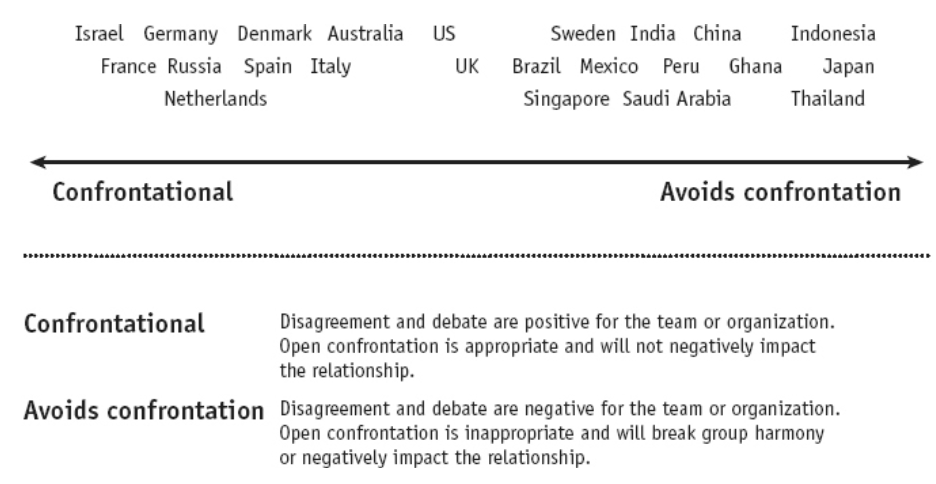 🆘How to work with global teams to disagree agreeably
If you are the boss, avoid giving any opinion first
Encourage debate by adjusting your language, such as avoiding upgraders (phrases like "absolutely", "totally" or "completely") and employing downgraders when expressing disagreement (phrases like Maybe we could think about this slightly differently...perhaps... what do you think")
After a presentation, instead of asking for opinions and inputs. Asked everybody to write down their opinions and reactions on a post-it and during the break. Post the notes on the mainboard and then as a group arrange it into different sets and discuss.
Hope you find this interesting and helpful.
Have a great week !
Tim
❤️ My Favourite Things
🥘 Cafe - 慢理牆城 Wall is East. A cafe in Yau Ma Tei located inside a boutique hotel. It is hard to find a cafe with nice interior, excellent service and reasonable price. But this cafe has done well in all 3. Recommend to try their linguine with Mentaiko and crab meat and risotto.
🍻 Guilty Pleasures - Dockyard in Kerry Hotel. WFH could be quite unmotivated from time to time, when I am not in a good mood for work, I will go to Dockyard in Kerry Hotel, a bar & food court, next to my apartment. Ordering a pint of beer and fish and chips while working on the task I don't want to work on. It is located on the harbourfront and the view is amazing.
✍🏻 Quote of the week
" What good poker players and good decision-makers have in common is their comfort with the world being an uncertain and unpredictable place. "
From From Think in Bets By Annie Duke
Resurfaced using Readwise.