Behind the Scenes of Casual Tech Meetup: Part 1 - Connecting the Dots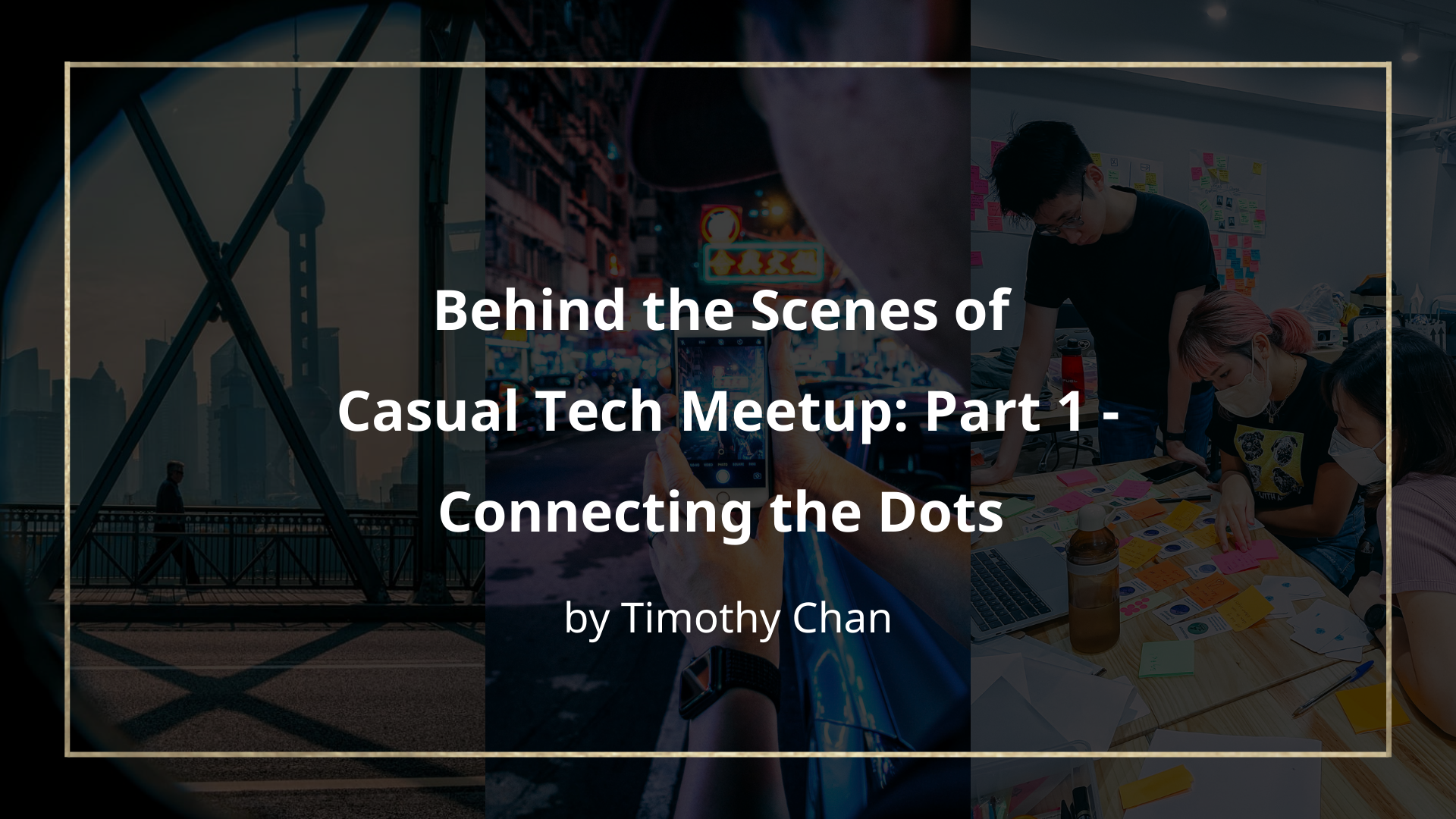 Recently, as I reflected and penned an article about the community I am building, I realized that numerous events in my life have significantly shaped me and ultimately led me to embark on this community-building journey. And I also want to share the behind-the-scenes of Casual Tech Meetup.
This article will be divided into two parts: Part 1 will delve into the events and experiences preceding the creation of the Casual Tech Meetup, while Part 2 will expound on how a happy hour event evolved into a thriving community. It will also explore the tools and systems I employ and the gradual improvements we've made.
What is Casual Tech Meetup?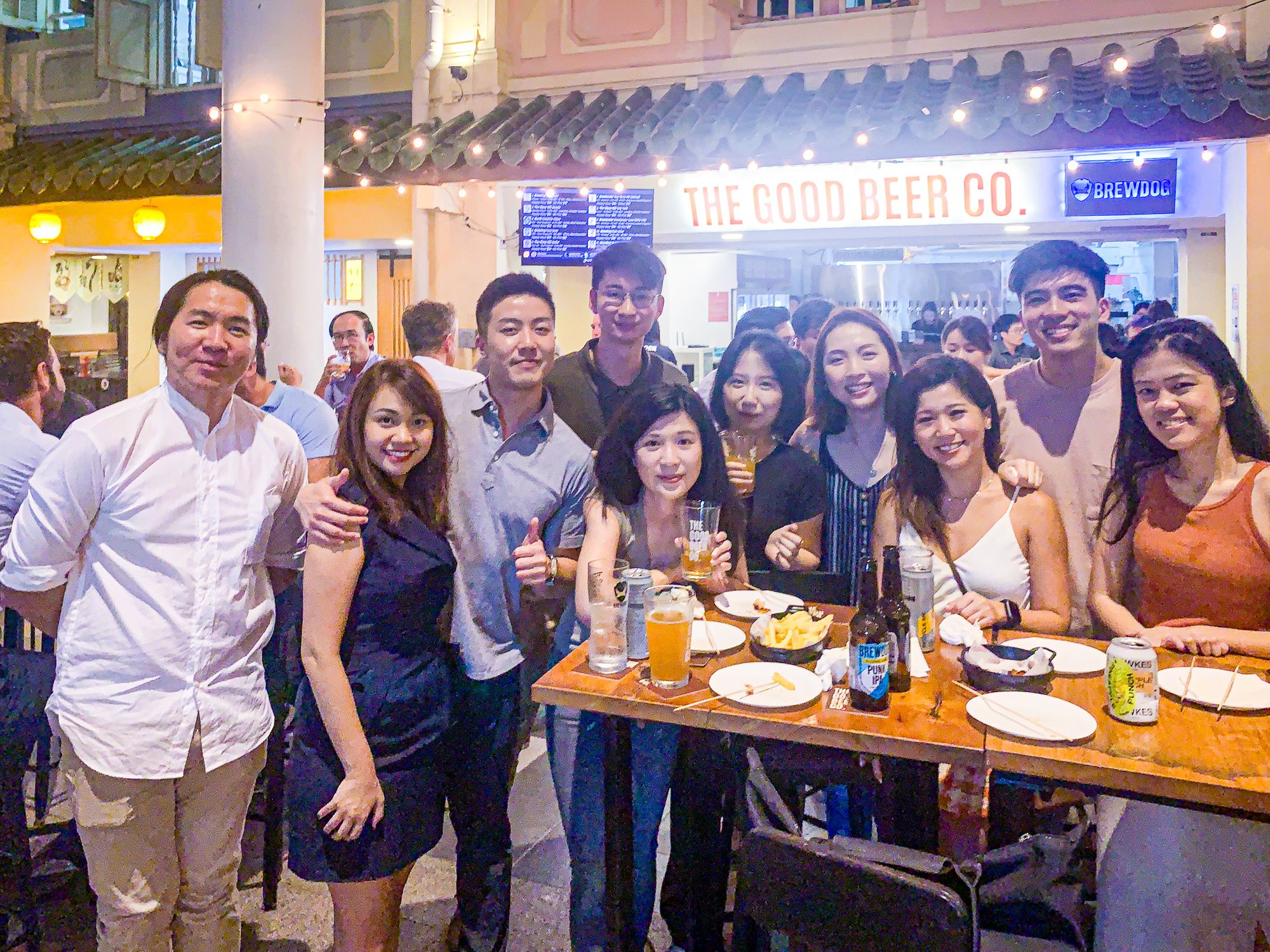 Founded in 2022 September, we curate diverse experiences for young professionals and change-makers, fostering meaningful conversations around technology, design, innovation, career, and life.
If you are interested in joining the next event in Hong Kong. Please PM me on Linkedin or Instagram.
---
Connecting the dots - How my previous experience shaped me

"You can't connect the dots looking forward, you can only connect them looking backward. So you have to trust that the dots will somehow connect in your future. You have to trust in something – your gut, destiny, life, karma, whatever. This approach has never let me down, and it has made all the difference in my life."
This quote is from Steve Jobs in 2005 Stanford Commencement Speech, where he shared a valuable life lesson about connecting one's past experiences to shape their future endeavours.
In my journey of building a community, I too have come to realize that numerous life events and experiences have played a role in shaping my skills and motivating me to undertake this path. I believe that all these elements also moulded me into the person I am now.
Experience and events happen before Casual Tech Meetup
Spring 2018 - Participated in a photo tour in Shanghai which combined history, photography, storytelling and experience design
Summer 2018 - Created a neon sign photo tour for tourists in Hong Kong
Summer 2020 - Closure of the tour but continued to run it for my friends; Had an idea to connect people from different circles of friends
Spring 2022 - Had a glimpse into experience design
Autumn 2022 - Ran a happy hour, which eventually evolved into a community
---
Spring 2018 - A Photo Tour happened in Shanghai
In 2018, I embarked on a solo travel trip to Shanghai, which proved to be a transformative experience for me. This trip, though initially conceived as a leisurely escape, would go on to reshape my perspective on business, and entrepreneurship.
At the time, I was in my third year of university and made the decision to travel alone for the first time, I chose Shanghai as my destination. While exploring the usual tourist attractions, I also participated in a photo tour listed on Airbnb Experiences.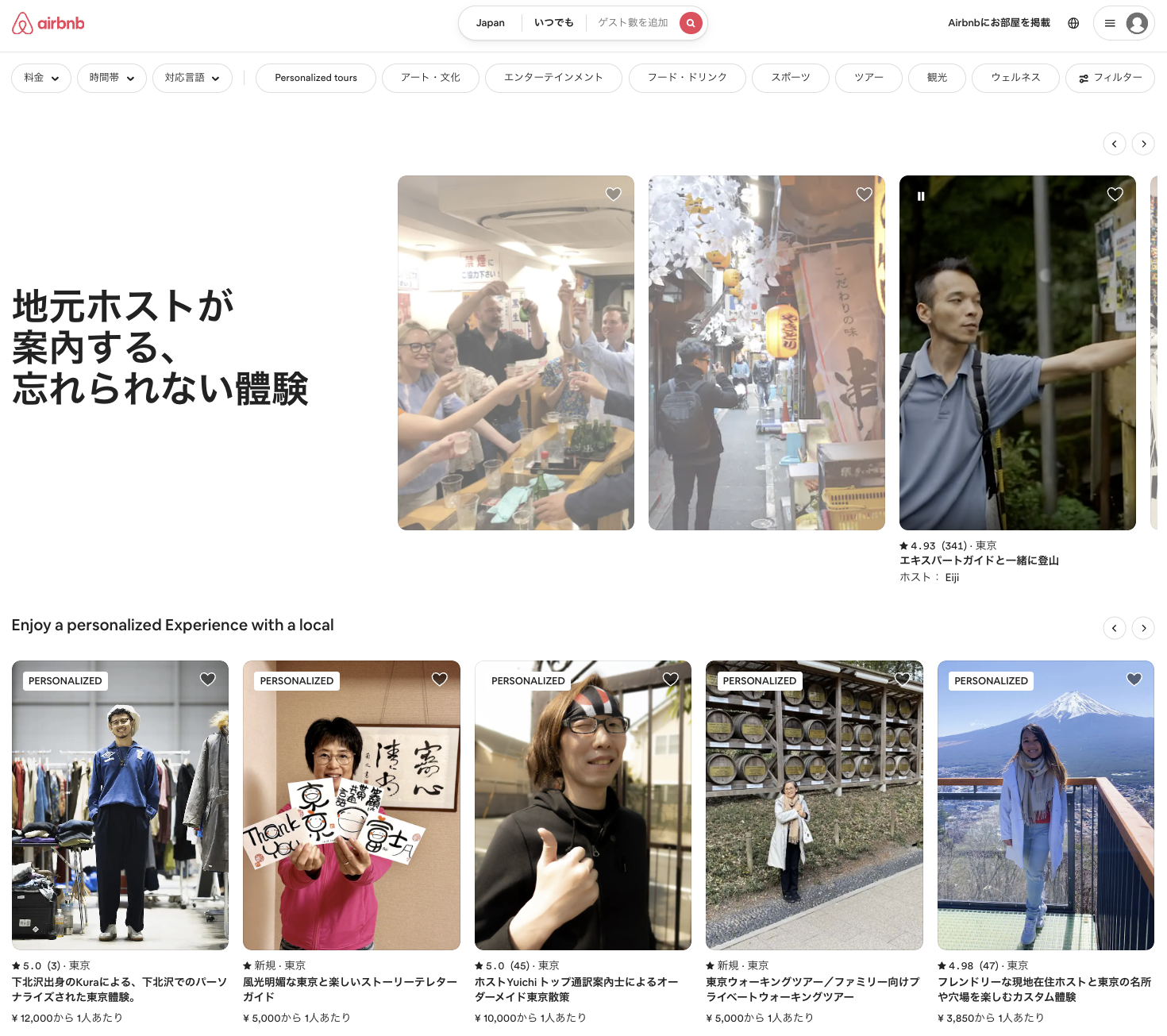 Back then, Airbnb had just launched a new product called Airbnb Experiences—an online marketplace that enabled local hosts and tour operators to showcase their travel products. What set their tours apart was Airbnb's focus on providing authentic and local experiences. Many of the tours listed were exclusive to Airbnb and were not led by professional tour guides, but rather by individuals who were passionate about food, photography, art and culture.
The photo tour I joined was created by Eric, a founder of a tour company. Their vision was to use cities as a means of educating people, and the tour he created served as a minimum viable product (MVP) to test this idea.
We assembled at 7:00 a.m. at the Bund and embarked on our "City Walk" adventure. The host shared various photography techniques and emphasized that he wasn't merely leading a photo tour but creating an immersive experience for the guests. After visiting various places, he delved into Shanghai's urban development and encouraged us to share observations about our own cities. The experience led us to engage in conversations among the participants.
What inspired me the most during his tour was when he shared his belief that, in the future, companies will require talent who are "Experience architects" and "Storytellers". These two "roles" are derived from a book titled "The Ten Faces of Innovation" by Tom Kelley, an IDEO Partner.
The Experience Architect is that person relentlessly focused on creating remarkable individual experiences. This person facilitates positive encounters with your organization through products, services, digital interactions, spaces, or events. Whether an architect or a sushi chef, the Experience Architect maps out how to turn something ordinary into something distinctive—even delightful—every chance they get.
The Storyteller captures our imagination with compelling narratives of initiative, hard work, and innovation. This person goes beyond oral tradition to work in whatever medium best fits their skills and message: video, narrative, animation, even comic strips. By rooting their stories in authenticity, the Storyteller can spark emotion and action, transmit values and objectives, foster collaboration, create heroes, and lead people and organizations into the future.
I also became fascinated by the notion that even a person without significant startup capital could create a tour product as long as they had an idea and the skills to execute it, leveraging Airbnb for distribution.
Upon my return to Hong Kong, I decided to take the plunge, create a tour and list on Airbnb Experience.
---
Summer 2018 - Creation of a neon sign photo tour for tourists
Coming up with the photo theme was the most challenging part.
I enjoyed photography, especially street photography. So, while browsing through social media, I noticed many Instagrammers loved the neon signs in Hong Kong and frequently took photos of them. I believed there was real potential in creating a photo and walking tour centred around Neon Signs. This theme was unique to Hong Kong, and its market was quite niche, meaning there was less competition compared to other tour products like mid-level walking tours and dragon back hiking tours.
Back then, I didn't know much about User Experience (UX) and Customer Experience (CX). What I wanted to do was create a tour that I would enjoy running and sharing with others.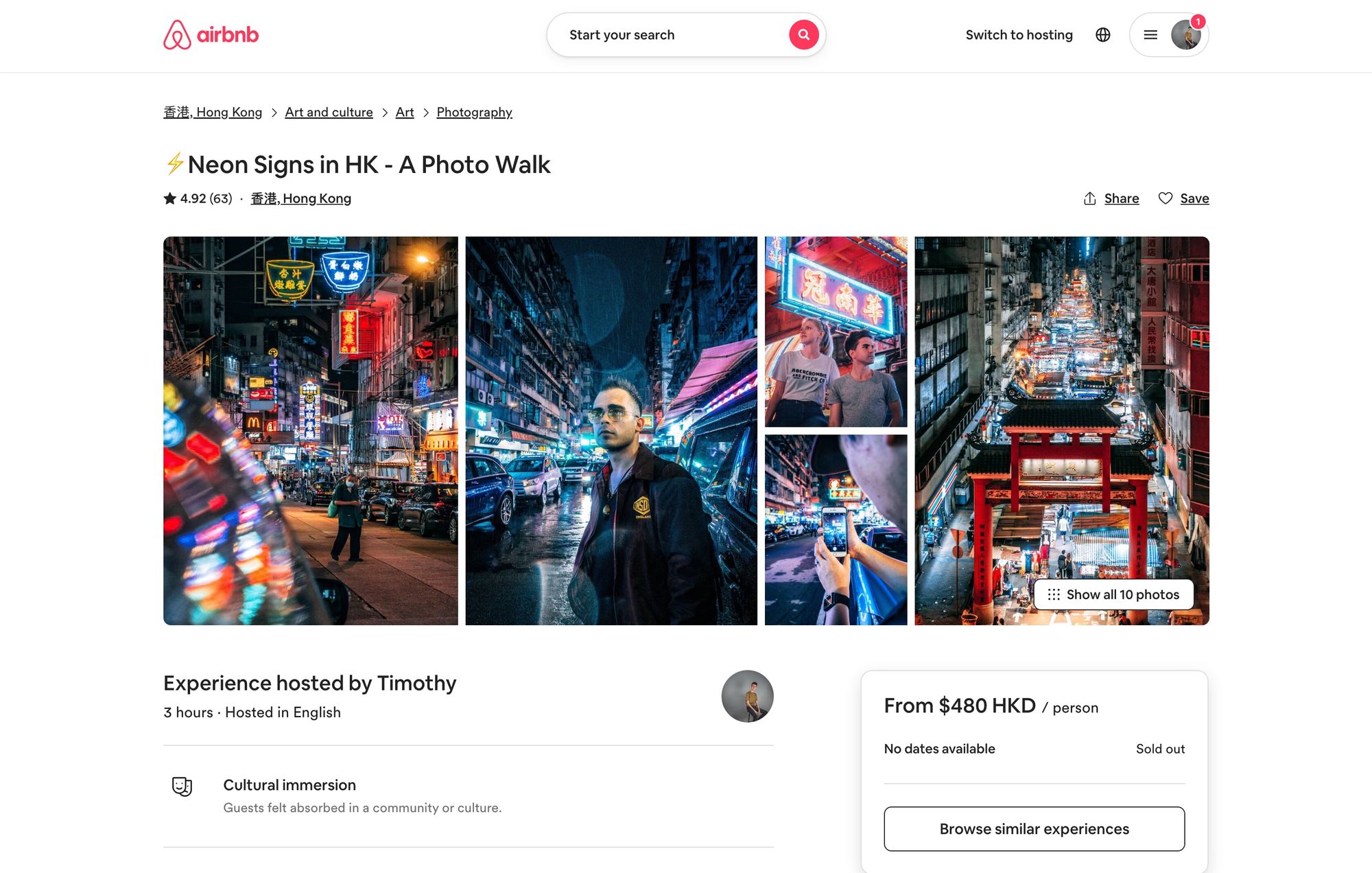 When designing the tour, several elements are incorporated into the product :
A Local Companion: A knowledgeable local guide to unveil hidden gems, those off-the-beaten-path nightscape locations that often remain concealed to tourists.
Photography Workshop: A workshop to teach photo-taking techniques and framing techniques (using objects from the street to add depth to their photos).
A Walking Classroom: To discuss urban development and the history of Hong Kong.
After the tour, I wanted my guests to remember one single message: "Be curious about the little things around your neighbourhood."
So, I began mapping out the local neon sign spots, figuring out which techniques should be taught, and uncovering any stories behind each location.
Things went well, within just one week of launching it, I received my first booking.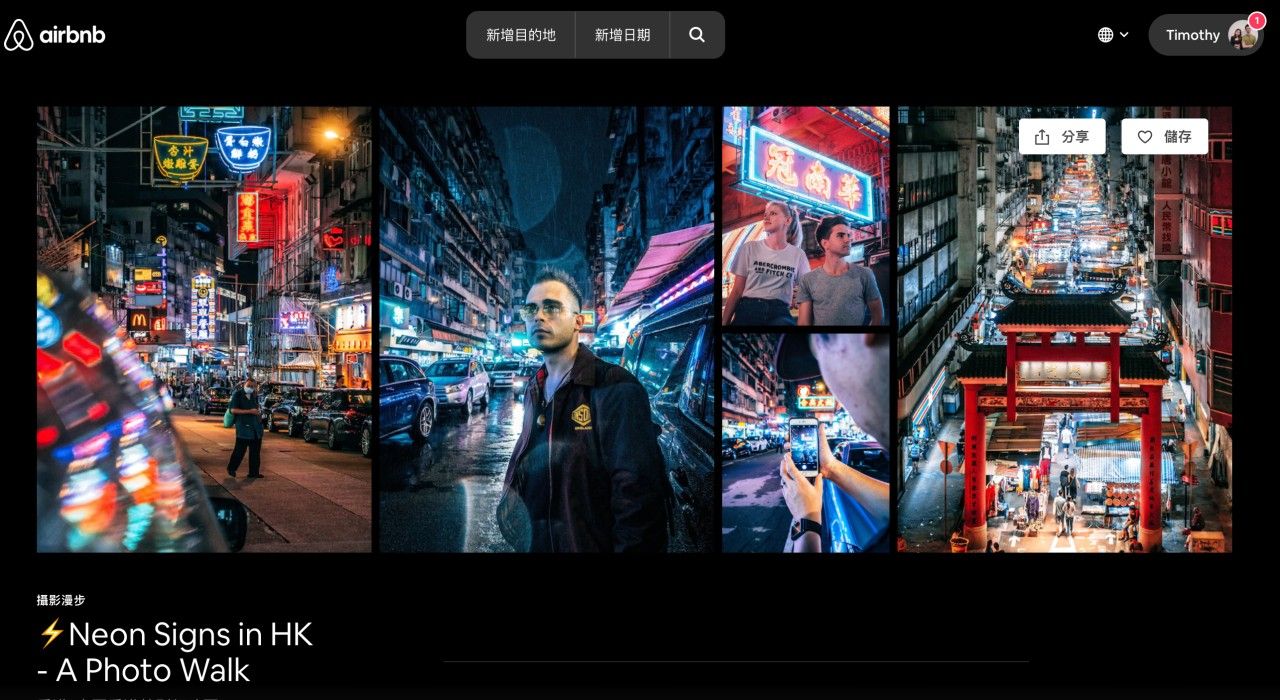 ---
Summer 2020 - Closure of the tour; Had an idea to connect people from different circles of friends
From 2018 to 2020, those two years marked the pinnacle of my photo tour. I conducted more than 50 tours during this time, and I had the pleasure of meeting different guests. Some of them become my friends and we will still meet each other once a year. These experiences broadened my perspective on the world in profound ways.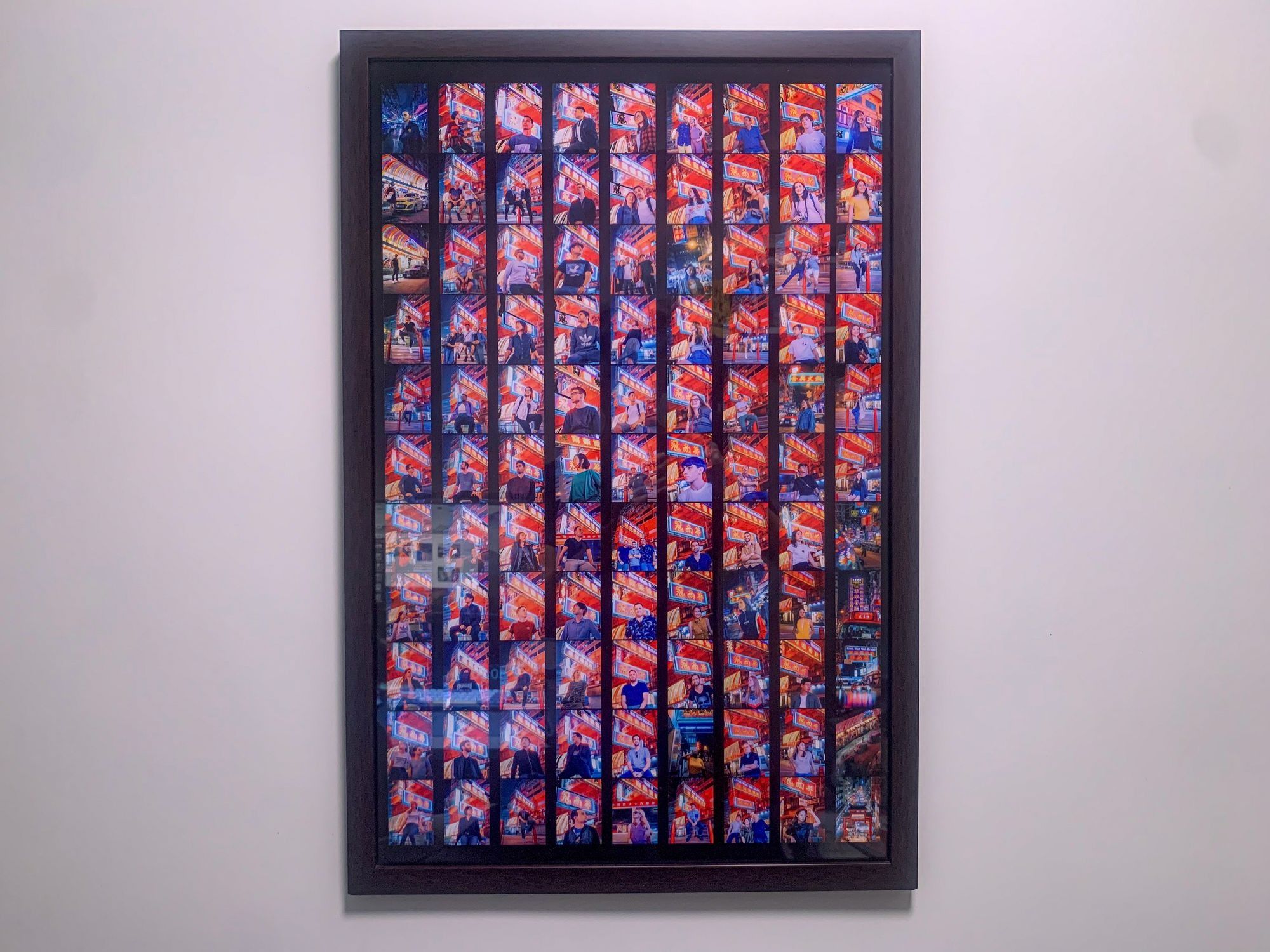 In late 2020, after two years of running the tour, I made the decision to bring it to a close.
Along this journey, I also had some realizations about myself:
I have a deep passion for building things and processes. And having the ability to bring visions to reality.
Engaging with strangers is a source of enjoyment for me, and I excel at building rapport with people I meet
I am good at creating a world and drawing people into it through storytelling and the way I talk to others
Before actually closing my tour, I had an idea that I just couldn't resist. I decided to share the tour with my friends in Hong Kong and offer a free version of the experience. Little did I know that this decision would plant the seeds for community building.
As I gathered my friends for this free tour, a thought began to take shape in my mind. I was curious to explore the possibility of connecting different circles of friends who didn't know each other. Were there common interests and shared passions that could bridge the gap between them?
---
Spring 2022 - Had a glimpse into experience design
In the spring of 2022, I wanted to learn something new. When I look back at my journey, I had a brief understanding of UX design, but what I know was all from articles and books.
After some research on Google, I saw there is an in-person, part-time experience design course that emphasizes design thinking rather than the use of UI tools. I decided to join this course with the intention of gaining a different perspective on problem-solving.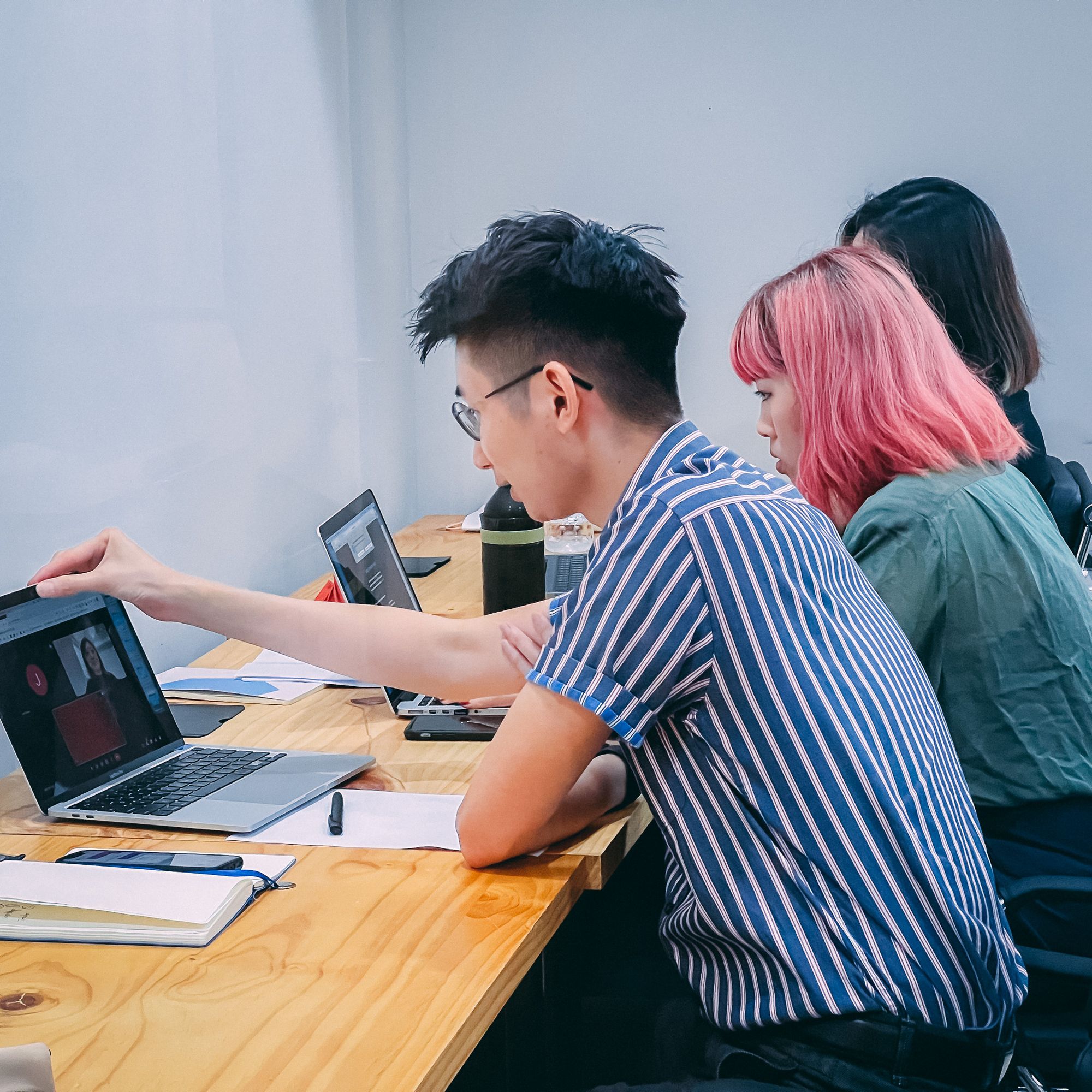 Three Things I Learned from Participating in the UX Course:
Don't be afraid to share your point of view and ideas, even if they are raw.
Design (thinking) is a very messy process, but you have to trust the process, and you will ultimately find a solution.
Everything in life can be viewed as a prototype. To evolve and improve, we must continuously iterate and refine our ideas, building upon the lessons of the past.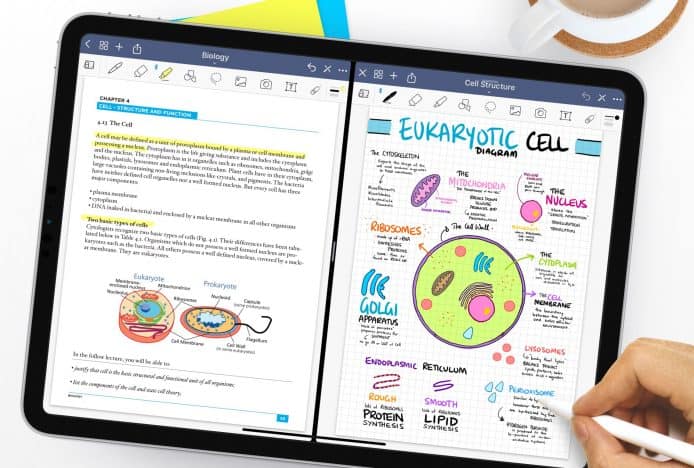 The course was a transformative experience. In addition to the skills I learned during the course, I found myself surrounded by like-minded people who are interested in design and technology. Each of us shared a commitment to personal growth and had growth mindset.
Our conversations naturally extended beyond design and technology, it naturally flowed into other interesting topics such as career and personal side projects. I really enjoyed the atmosphere of the class.
During these times when I participated in the course, an old idea resurfaced. About two years ago, I brought people together through my passion for photography.
Now, seems more and more people around me are interested in design and technology. In the near future, maybe I can host an event for these people again.
---
Autumn 2022 - Ran a happy hour for UX and digital marketing, which eventually evolved into a community
When I learned COVID restrictions were over in September 2022, I believed it was the right time to create the first event. It will serve as an MVP for the community. Once I gain more traction, I will figure out how to improve the experience. (If you're interested in how a casual Tech Meetup evolves, the next article will answer your questions.)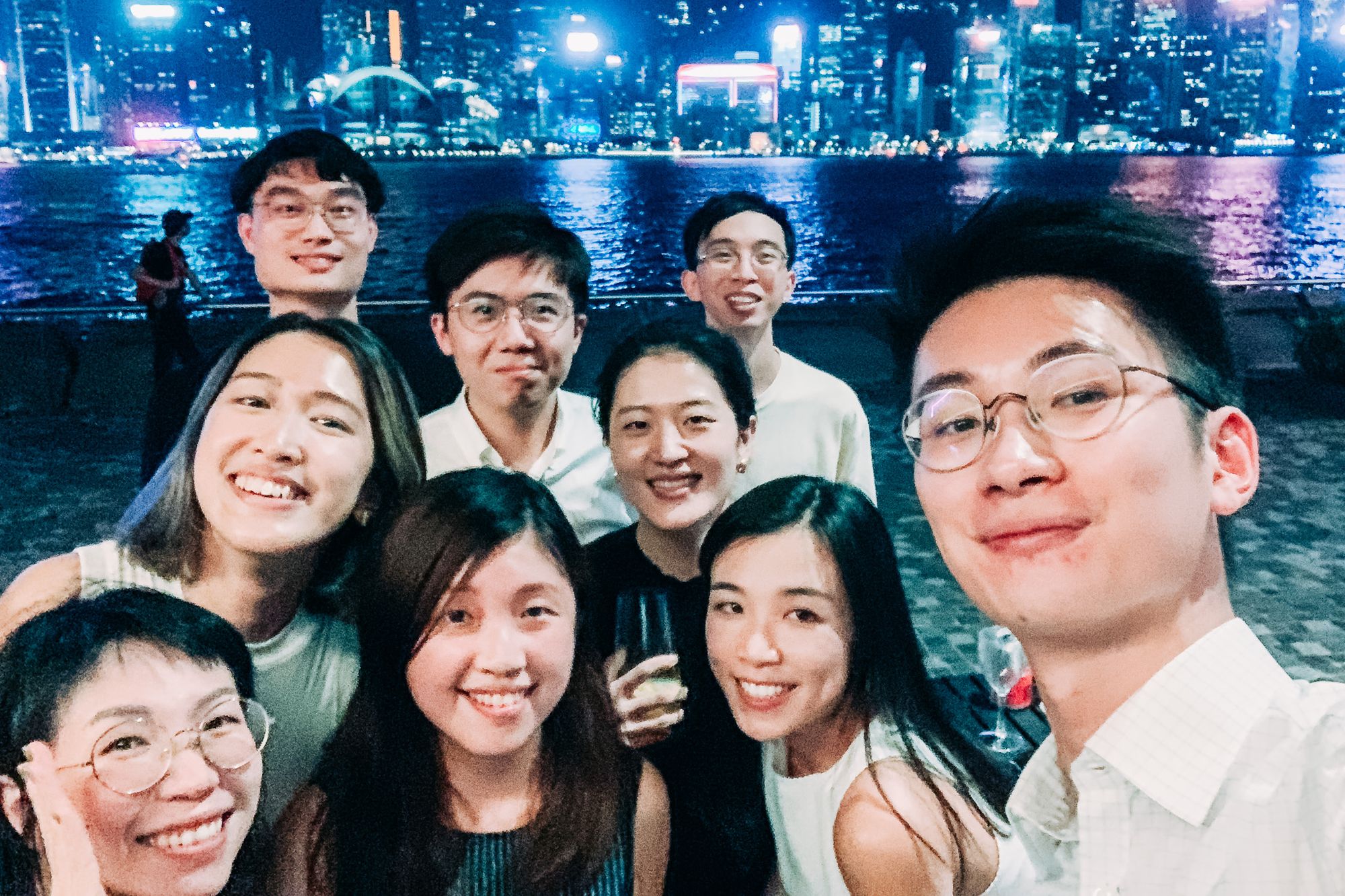 Here's what I did to find the first batch of participants and ran the happy hour
Made a list of everyone who fits the demographic: I created a list of my friends and connections who work in UX, digital marketing. We might have met in university, career coaching sessions, my first job, the UX course I attended, and various other occasions.
Contacted them personally: I messaged them one by one using my personal Instagram, LinkedIn, and WhatsApp to ask if they were interested in joining an event I was hosting.
Shared a Google Form for Sign-up: I created a Google Form for participants to sign up, and later, I would manually add them to a Google Calendar.
Of course, there would be some rejections, and some people might read your message and not reply, but that's also fine. Eventually, there would be some people interested in joining the first meetup.
In the end, I had 9 participants sign up for the happy hour. That's not bad for the first event.
What I learned from hosting the first event
Know what you want to test through the MVP:

I want to know if people are willing to join this type of industry and topic-focused happy hour, as well as meet new people during the event.
I want to know if I am capable of connecting and introducing two people who haven't met each other.

Trust yourself: Trust yourself even though you don't see other people doing similar things in Hong Kong. Believe that hosting the event would be beneficial to others, and I believe others would be interested in it.
---
Connect the Dots
Those are essentially the events that influenced me to embark on my community-building journey: solo travel to Shanghai, which kickstarted my Airbnb Experience side hustle; the closure of that venture and sharing the experience with my friends; and ultimately, participating in a UX course.
And what Steve Jobs said is true - "You can't connect the dots looking forward; you can only connect them looking backwards. So you have to trust that the dots will somehow connect in your future."
I hope you can find some inspiration from reading this article. In part 2 of this behind-the-scenes series, I will share how a happy hour event evolved into a thriving community. It will also explore the tools and systems I employ and the gradual improvements we've made.