Thank you, everyone opens this email again. Sorry if I didn't send out my newsletter last week. I was trying to figure out a way to encourage myself to write more consistently.
I think I have found a way to do so, which is keeping a separate notebook around me, dropping down all the random ideas from my mind. Every Saturday afternoon, I will then reread my note and structure my newsletter content based on the thought I had in the previous week.
📊 If you don't document, you won't improve

This comes to my mind so often when I am working on the A/B testing project for my company. Let me explain
What is A/B Testing ?
A/B testing is an experimentation process where two or more versions of a variable (web page design, ad copy, etc.) are shown to different segments of visitors at the same time to determine which version leaves the maximum impact.
In the picture below, you can see variation B is performing better than A and we should use this in the future.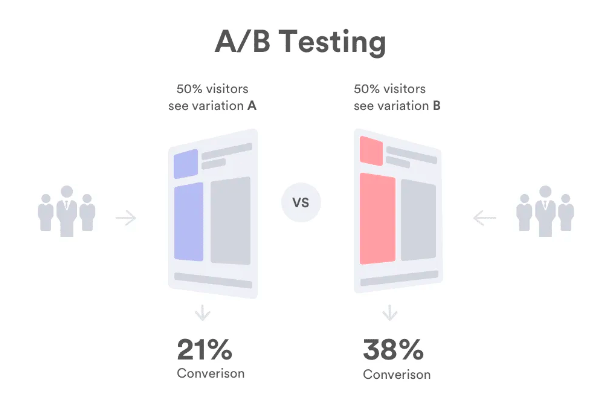 There are many information silos across different teammates who run various testing. Our results are not well documented, and it cost us lots of effort, both workforce and money. Sometimes we even ran a test that other teams had run before.
What I learn from it
It always reminds me of the importance of documentation, if we don't record well, we won't know what has been done, and we won't even know how to do better next time.
I also found out we often can't see something clearly until it is written out before us. So documentation is necessary to me now. The newsletter you are reading is also part of what I used to document my life.
🙋🏻‍♂️The question in my mind

Working in marketing and this side project means I will sometimes need to work in the weekend while reading a newsletter from my favourite Youtuber. I got this question.
Would you do what you did for free or during weekday
I think about this question quite a lot. Is it worth it? Now I have another perspective, and If the project and task I am working on is fun and inspiring, I don't mind working during the weekend because it means my work life is going well.
Have a nice week ahead !!!
Tim
❤️ My Favourite Things
📽 YouTube Channel - Johnny Harries. I recently discovered his Putin Will Lose. Here's Why video from the explore feed. He used to work for Vox, creating documentary short films. Now he started his channel creating content on world politics.
🖥 Notion Certified - I was working on notion certified, a program for Notion power users to show their skills and earn a certification badge to display across their digital footprints.
✍🏻 Quote of the week
" In determining "the right people," the good-to-great companies placed greater weight on character attributes than on specific educational background, practical skills, specialized knowledge, or work experience."
From The Character Edge by Robert L. Caslen, Jr. and Michael D. Matthews
Resurfaced using Readwise.